MyStim Electro Stim Sizzling Simon (Black Edition)
NOT FOR BEGINNERS. This vibrator has two vibrating motors and also uses Electrical Stimulation to create tingly sensations. Warning: An extreme product.

Features:
E-Stim stimulation and Vibration stimulation
Powerful with dual vibrating dual motors and one E-stim
8 vibrating programmes, 5 intensity levels
5 E-stimulation programmes, 10 levels
Body-Safe and Phthalate-Free – Medical-grade, platinum silicone

WARNING: NOT FOR BEGINNERS
We are not kidding. E-Stim is not for beginners. Please read the safety warnings. PURCHASING THIS PRODUCT waives any rights or claims from Alice Maple, purchase and use at your own risk. E-Stim can range from tingly to outright painful at maximum.
The first of his kind: Tickling Truman is unprecedented, because our E-Stim Vibes are the first and only toys that have you enjoy both vibration and electrical stimulation at once – and they don't even need a nerve stimulator kit for it. No cables, no devices – Tickling Truman & co vibrate, tingle and pulsate all on their own.
Vibration
Our Truman hast not one but two vibration motors: one in the tip and one in the shaft. In 8 different programmes and 5 different intensity levels, these two work together to provoke some ecstasy in a nicely varied array of ways.
E-Stim
Each of the E-Stim Vibe's 5 electrical stimulation programmes is set on bringing you a tingly new sensation, and you can choose between 10 different levels of intensity. Truman's conductive surfaces run the length of his body to make the stimulation as smooth and broad as possible.
Pelvic Floor training
And because 8 vibration modes and 5 e-stim varieties weren't enough yet, our Tickling Truman also has a training programme that strengthens the muscles in your pelvic floor – which verifiably enhances the ladies' ability to reach an orgasm.
The three different functions are easily controlled via the buttons in the handle. You can choose whether you want e-stim and vibration together or only one of them.
Our Tickling Truman is made of 100% medical-grade platinum silicone. This makes him not only very hygienic, but also easy to clean with a damp cloth and a mild soap. He comes with a built-in long-life lithium-ion battery that is rechargeable via a Mystim magnet charge USB cable which is, of course, included in the delivery. Even if you have both e-stim and vibrations set to their highest levels, a fully charged Truman runs for at least 3 hours before his efficacy starts to fade.
Tickling Truman's smooth silicone body is 27 cm long and has a maximum diameter of 4,3 cm.
SAFETY. PLEASE READ:

E-stim is only dangerous if you use it thoughtlessly. There are a couple of simple ground rules that you should memorize and adhere to:
Current must never flow through the brain.
In your brain, all impulses from nerve ends are interpreted and translated into useful information. Do not ever interrupt this process by sending a different current of impulses through your head. Do not place electrodes on the eyes, in the mouth, or over the ears, or any other part of you head or face.
Current must never flow through the heart.
The heart has its own rhythm and is sensitive to disruption (this is why pacemakers work; they're also e-stim units). Don't mess with it. Never stimulate both your nipples at once making one side the positive and the other the negative pole. If you would like to use clamps, please make sure that each individual clamp has both poles.
Current must never flow through the throat.
Do not place electrodes in or hold toys to the laryngeal or pharyngeal area. Muscle spasms in this area can cause asphyxiation.
Current will always take the shortest possible way between the poles.
With this rule you can always check if you are leading the current through one of the three forbidden areas – head, heart, throat. Just imagine a straight line between both poles and you'll know where the current flows.
If you have an electronic or metallic implant (i.e. a pace maker or a loop), please consult your physician before you use e-stim. Electronics might be disrupted and metal might heat up.
E-stim may not be applied during pregnancy.
E-stim devices do not have AP/APG-safety. They may not be operated in the environment of explosive or combustible material.
Use only on healthy skin.
Keep away from children.


Vibration Level: Gentle to Very Strong
E-Stim Level: Gentle tingles to Pain

Approximate Size:
27cm x 4.3cm

Alice Maple honors an original 12-month manufacturer's defect warranty from date of purchase for this product.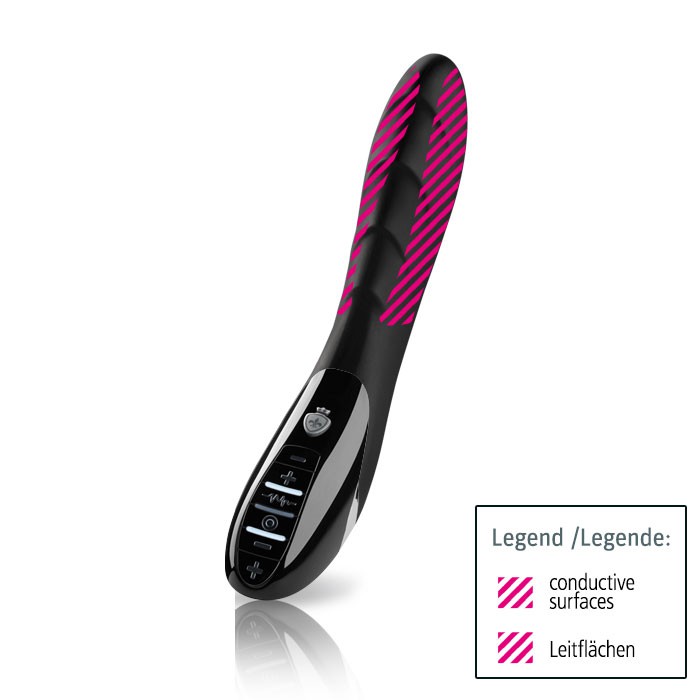 Internationally Acclaimed


We'll make you tingle: Since 2005, Mystim has been producing high class devices for erotic electro-stimulation – and all kinds of toys to go along with.With background in medical technology and a distinctive sense for good design, Mystim has the know-how – and the ambition – to uphold the highest quality standards.

More Information

| | |
| --- | --- |
| Brand | Others |
| Material | Silicone |
| Vibration Strength | Electrostim + Vibrations |
| Color | Black |
| Toy Size | Large |
| Warranty | None |