FREE Singapore Delivery in 3 Hours
Our courier deliveries are really, really fast. We don't skimp on delivery. Check our store/product reviews tab at the side - hundreds of real independent customer product reviews cannot be wrong. Courier delivery is available for $9. FREE for all orders over $125. Last order for the day is 6pm. We deliver on Saturdays, Sundays and Public Holidays too.
Courier Delivery Timeslots if ordered before 3pm today
-Today 3.00pm-6.00pm
-Today 7.00pm-10.00pm
-Tomorrow 3.00pm-6.00pm or 7.00pm-10.00pm
Courier Delivery Timeslots if ordered before 6pm today
-Today 7.00pm-10.00pm
-Tomorrow 3.00pm-6.00pm, or 7.00pm-10.00pm
*If you wish for the courier to call before delivery or meet you at the lobby, or leave the parcel at your doorstep/water riser/shoe cabinet, please leave a comment during checkout.
Are you in a hurry? 3 Hour or URGENT delivery is an option. If you are in a hurry we can try and arrange delivery within 3 hours or less by courier if your order is placed during Courier operational hours (12.00pm-7.00pm). Please give us a ring or SMS 8444-5644 to confirm 3 hour delivery. If we can't do it we will let you know straight, rather than dissapoint you. If you select URGENT delivery, please note that we are only able to send it as soon as we open our store for the day, during operating hours.
Discreet delivery & Payment You can leave us a note instructing the courier to call before delivery. The charge will only appear as "Paypal:AM" on your credit card statement.
Plain Packaging Orders are packed in boxes with no Alice Maple designs or logos on them and taped up securely. The package will be marked as "accessories". The courier will pick up the package from a neutral address, and will not know what is delivered.We understand that your orders need to be handled very discreetly, so we only use small trusted document courier companies that can guarantee your privacy and priority. We do not use Ta Q Bin, Aramax or Singpost for courier delivery.
We ship to Hotels and Serviced Apartments too Please leave your room number, contact number and first name (required for some hotels). Our courier will leave your parcel at the front desk. Delivery for Hotels along Orchard Road is usually made within 2 hours.

Alice Maple also offers Same-Day Cash-On-Delivery in Singapore everyday (including Saturdays, Sundays and Public Holidays). Cash-On-Delivery has an additional courier charge of $5 on top of regular delivery charges above.
SMS, WhatsApp or Call 8444-5644 at anytime to place your order. Please provide:
Required Items
Delivery address / Meeting Point
Desired delivery timing (3pm-6.00pm or 7pm-10pm)
We will quickly get back to you to confirm your delivery timing!

Want more Privacy? Pick up your order from a Singpost PopStation locker near you in privacy. Most PopStations are accessible 24/7 so you can pick it up at your own time.
During checkout please select a PopStation location and enter it as your "Delivery Address" or in the "comments box".
Please include your contact number.
Singpost will SMS you the locker password when the parcel is ready for collection.
Click here for a full list of Singpost PopStations available.
PopStation deliveries will be ready for pick up in 2-3 days. Most PopStation deliveries are available the day after posting. PopStation delivery is available for $9. Delivery is FREE for all orders over $125.


Standard Mail.Singpost Registered mail takes about 2-3 days for delivery from posting. A tracking number will be made available once it has been posted. FREE for all orders.
Delivery will be made to your doorstep by Singpost, and will require a signature. Missed deliveries can be picked up from Singpost Post Offices.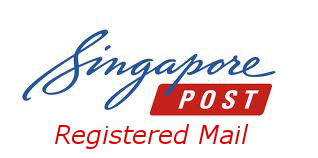 International Shipping Worldwide. Alice Maple also ships to international addresses by standard Airmail. Delivery is FREE for all orders. Please select International Mail at checkout.
Malaysia, Thailand, Indonesia 3-8 days by Airmail
Other Countries 5-9 days by Airmail
We will send the tracking number by e-mail once the parcel has been sent.
Packages are discreetly packed in plain parcels and declared as gifts, plastic parts, plastic toys.
We can remove all packaging on request, simply let us know in the comments box during checkout.
Regarding International Delivery: We understand that some of our items are not legal in certain countries. If your parcel gets detained or confiscated we are unable to refund your purchase.