SpareParts Deuce Double Penetrator for Men
The Deuce is designed for men who wants to double penetrate their partner with their penis, and a dildo at the same time. The Deuce also offers a great advantage, where they can continue to penetrate and satisfy their partners with the dildo after they have had an orgasm. SIZE A. Fits 20-50 inch waist.
The Deuce is designed for men who wants to double penetrate their partner with their penis, and a dildo at the same time. The Deuce also offers a great advantage, where they can continue to penetrate and satisfy their partners with the dildo after they have had an orgasm.

Features:
For men to penetrate your partner in the vagina and anus at the same time
Two holes, one for your penis and one for a dildo of your choice.
Assist in prolonging foreplay, continue to make love between erections
Hand-made, designed to last
Comfortable and flexible, can be worn underneath pants as normal underwear
Fully hygienic and sanitary
Adjustable straps fit most sizes (20 inches - 50inches)
Comes with Satin Storage pouch
Washable & Travel friendly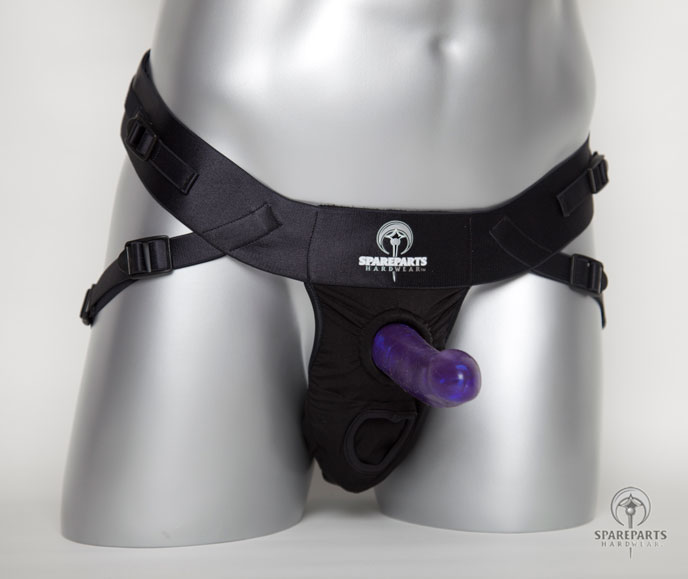 A Hands-Free Experience
The Deuce™ is the very first harness from SpareParts HardWear™ that is especially designed for men! The Deuce™ is a unique harness which has been designed to assist men in prolonging foreplay and as a brilliant alternative to continue love making sessions in between erections, creating further intimacy between partners. 
The stylish Deuce™ is comfortable and durable. The adjustable straps ensure it fits the wearer securely and remains snug and in place, providing complete control whatever the position.  As the leg straps cross at the perineum, they apply a light pressure to the prostate region giving an additional pleasurable feeling. 
The Deuce™ has an elastic and stretchy O-ring which expands and contracts to hold a variety of dildos of different shapes and sizes, so each and every experience can be a new and exciting one.
In addition, there is a second hole just below the O-ring that is lined with soft stretchable elastic which is designed to accommodate the natural girth of the wearer. This subtle touch to this unique harness, allows the second opening to act as a soft cock ring creating another pleasurable dimension when using the Deuce™. 
Both openings have two small flaps on the inside of the harness so that the wearer has the choice of having the dildo base against his skin for that more intimate and involved feeling or he can have it covered for a more gentler, less abrasive sensation. With the flaps, the wearer can also opt to have his penis inside or outside the pouch. So you can enjoy the Deuce™ in a multiple of fun ways!
For an additional vibration, the flaps for the top dildo can accommodate a wireless mini bullet vibrator for that extra sensual stimulation. Vibrating cock rings can also be used with the Deuce™ for a further titillating sensation to the dildo and to the penis.
The belt is secured with Velcro and has a second elastic pull feature for locking your product of choice into place. The locking mechanisms on the leg strap allow the wearer to move the sliders into place, whilst the locking teeth of the top slider holds the straps and harness in place so the harness is secure the entire time it is worn. The Deuce™ can be worn comfortably without having to constantly re-adjust.
The simplicity of the Deuce™ means it makes it easy to use for a variety of ways. The wearer doesn't have to remove the Deuce to insert their penis or the dildo through either one of the holes, while they are wearing it. They can simply release the belt strap and pull the pouch forward and insert or pull forward on either side of the pouch to insert. 
As the Deuce™ is designed especially for men; the pouch is designed so that it comfortably cups the testicles and penis if desired, without resulting in bunching, chaffing, pinching or binding. 
It's also a fantastic choice of harness for men who have erectile dysfunction. The versatility of the Deuce™ means it can be used with only a dildo or with penis and a toy simultaneously for dual penetration and double the fun.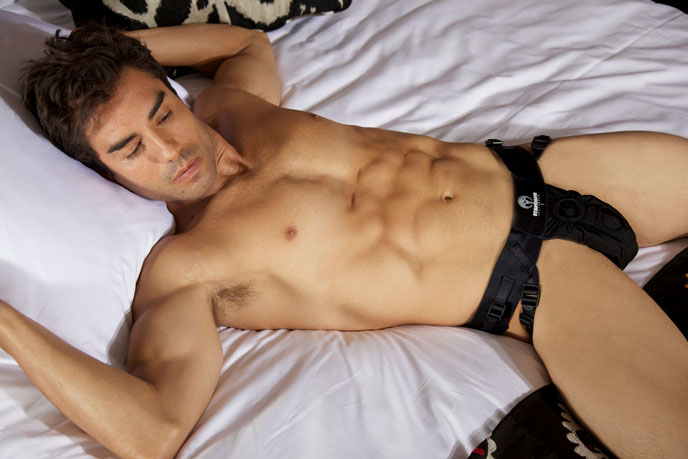 How to put on and Adjust the Deuce Harness:
Using Toys with the Deuce Harness:
Washing instructions:

Made from lightweight, breathable fabric for extended period of wear. Nylon/Spandex/Velcro. Corrosion resistant brass snaps. Hand or machine wash (in a wash bag). Low temperature tumble dry or lay flat to dry.
Accomodates dildos: 1.25 inches -2 inches wide
Sizing: Fits Waists 20inches-50inches

Step one
To measure which size is best for the wearer; first consider where you will be wearing it whether it's on your waist (high ride) or on your hips (low ride). If you prefer to wear your harness high, instead of low (please be aware many wearers like to wear their harness low as they want it to sit on their clitoris so it allows for stimulation where ever possible); measure around your waist instead of your hips. 
 
Step two
Wrap the measuring tape around your hips (or waist if applicable), where you would wear your belt.  Take the number where the tape measure completes and crosses over itself.  You should add a few (3-4) inches to this measurement for size fluctuation and room for sizing adjustment. Take the measurement and see size chart above for Belt and determine which belt would be best.  
 
(You should be able to select a size that is reflective of your belt size.  So for example:  if you wear a size 32  belt, and it has a good fit with a couple holes for adjustment, you should select the Deuce that best fits 32 inches).
Note: We have full display models to try on, and official SpareParts measurement tools to fit your size according to your waist at our store. Feel free to drop by to view all SpareParts products!


A short word about Spareparts:
SpareParts HardWear™ is a US based company which specialises in creating beautiful and durable harnesses.
Inspired by the lack of variation of harnesses on the market back in 1999; SpareParts HardWear™ set about to invent the ultimate harness. The company were driven to create a harness that could fit every woman whatever their size and shape; a sexy and stylish product which is comfortable and versatile for a variety of functions. SpareParts HardWear™ wanted to produce handcrafted harnesses using high quality materials...and they succeeded.

After years of research, development and testing (and a keen desire to get it right!), SpareParts HardWear™ officially launched the first and signature product in 2005 - The Deuce™ Harness. SpareParts HardWear™ is continuously designing and developing new products.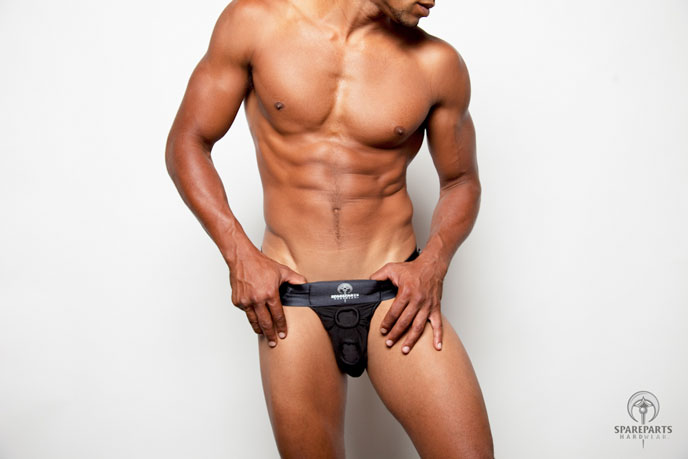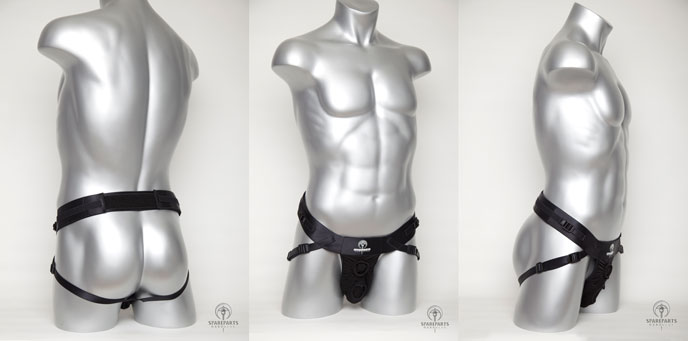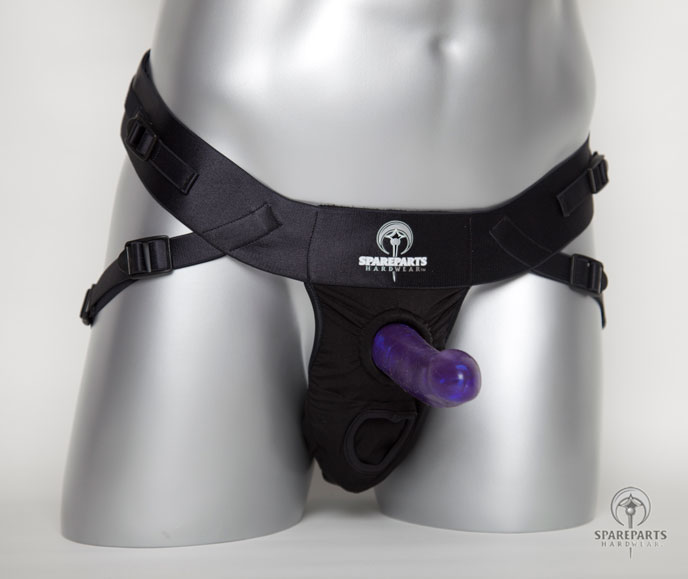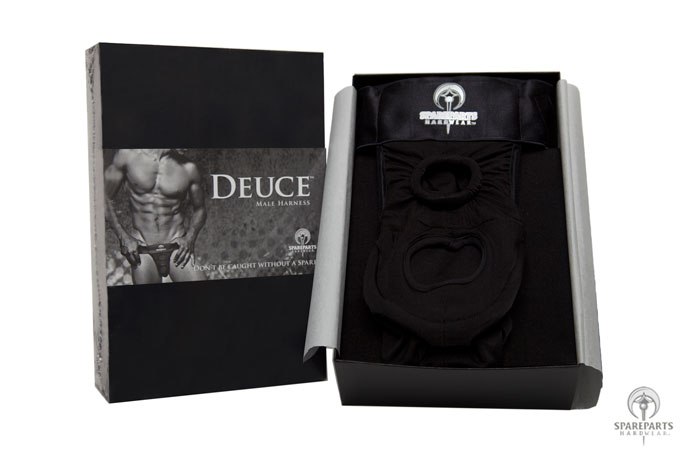 Reviews
This is a new product! Submit a review by e-mailing to

[email protected]

.
More Information

| | |
| --- | --- |
| Brand | Spareparts |
| Material | Others |
| Color | Black |
| Toy Size | Freesize |
| Warranty | 12 Months |
We found other products you might like!
Customer Also Considered