Bathmate Hydromax Hydroxtreme7 (X30) Hydropump - Crystal Clear
Special Price
$320.00
Regular Price
$415.00
For Average-Sized guys who want more results. The Bathmate Hydromax X30 Xtreme Hydropump is the ultimate in hydro-technology for penis development and health. Comes with an extensive kit and hand pump for even better results.
For Average-Sized Guys who want more results

The Bathmate Hydroxtreme7 is our most advanced product to date and boasts three core design characteristics. You can only get these with a superior penis enlargement hydraulic pump.
Highly Effective: The Bathmate Hydroxtreme7 offers improved performance with its powerful handball pumping system. The handball pump helps you to achieve maximum results by precisely controlling the pressure and the pump. The precision control assists you with obtaining greater results and achieving your full potential.
The Bathmate Hydroxtreme7 offers versatility that both beginners and advanced users will enjoy. The handball pump system allows you greater control with the ability to adjust negative pressure avoiding any discomfort. It will also allow the user to use maximum pressure for maximum results. This advanced system is a must have for anyone serious about penis enlargement.
Xtreme Comfort: Previous pumps have required a fair amount of effort to achieve maximum results. The newly designed Bathmate Xtreme X30 has taken the effort out of the process by using an advanced handball pumping system. The handball pumping system allows you to avoid using your abdominal muscles, making your penis enlargement training comfortable and much more effective.
Premium Training Package: The Bathmate Hydroxtreme7 is a comprehensive package that includes 11 items. The Xtreme X30 package will include everything needed for beginner and advanced penis enlargement training plans.
A new Swivel Bellows feature allows full 360 degree positive rotation to give you entire visual chamber viewing plus inclined angle change option for optimum efficiency when used in the bath or shower – or when you are using the amazing new Hydromax pleasure ring system.
A new Super Flow Latch Valve system allows for one hand filling in the shower, making using and positioning the hydro pump much easier for you.
A new metric and imperial guidance scale gives you improved visual viewing area, plus upper and lower texturing on the vacuum tube for better grip and control.
The internal bellows size has been increased and the number of convolutions reduced to allow you reaching even more impressive girth expansion.

Suitable for Erected penis length less than 180mm, erected penis girth less than 170mm in circumference.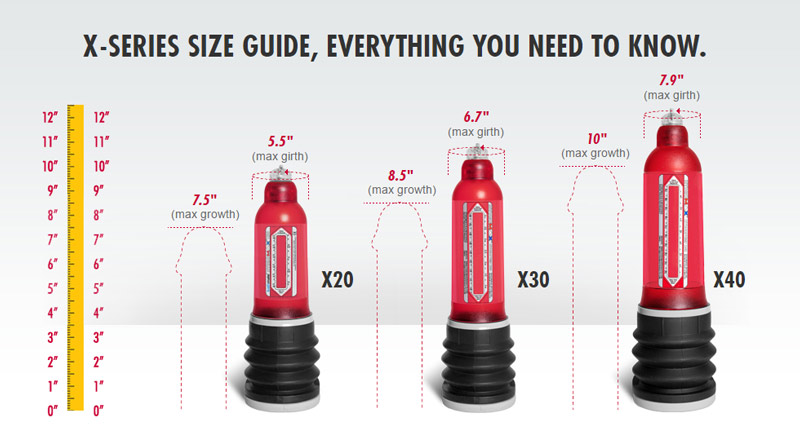 Kit comes with:
Xtreme main unit: The new Xtreme's gaiter is made up of a new advanced material. The new material is more flexible and durable than previous models. The new Xtreme valve can be used with or without the handball pumping system.
Note: Xtreme can be used without the handball pumping system like the previous models. However, the use of the handball pumping system dramatically improves the speed and effectiveness of penis enlargement training.
Handball pump: The newly designed handball pump is the core component behind the effectiveness of the Xtreme. It is made of a soft and flexible material allowing you to create and release pressure easily.
Hose attachment: The hose attachment seamlessly connects the handball pumping system to the Xtreme main unit. It's made of high grade material which is crack resistant and durable even with frequent use.
Long insert comfort pad: This is a brand new comfort pad with long insert. The long insert acts as a barrier, protecting the penis from the inner part of the gaiter pressing against it (especially when your penis gains in girth after using Bathmate for some time). It is also very smooth which adds more protection for your penis.
Bathmate lubricant: It is Bathmate branded and a specially designed lubricant for Bathmate products. If you are having a problem creating a good seal to your body, apply some of the lubricant.
Shower strap: The shower strap has been one of the most popular accessories in the Bathmate accessory line. It allows you to do your normal showering routine while using the Bathmate. The shower strap is also designed to prevent damage to the Bathmate should it fall (due to lack of pressure).
Bathmate cleaning kit: The cleaning kit comes with a specially crafted sponge and an extension stick. You are able to thoroughly cleanse every part of your Bathmate with this kit.
Bathmate measuring gauge: This patented measuring gauge is an advanced and precise tool to measure your girth and length. Designed and patented by Bathmate.
Soft Deluxe case: This case is large enough to hold every part of The Xtreme set. It is a soft case with a smooth finish and modern appearance while keeping your device protected.
Bathmate towel: A towel for drying your Xtreme and accessories after each session.
Number security lock: Lock your hardshell case to protect your privacy at all times.
More Information

| | |
| --- | --- |
| Brand | Bathmate |
| Material | Body-Safe Plastic |
| Toy Size | Medium |
| Warranty | None |