Description
Details
Vixskin Spur is a slim, average length dildo designed for beginners or those experimenting with anal penetration. Spur is handmade by artists with a special technique to produce a 100% silicone dildo in the world that bounces, stretches and feels like the real thing.
Features:
Slim, Average length (4.75x1.25inch)
Dual-density Silicon (soft outside, with a stiff core)
Feels like the real thing
Fully waterproof, medical grade silicon
Super hygienic, can even be boiled in water to disinfect after use
Mr. Slim and slick
With a smaller size, Vixskin Spur is fantastic for those experimenting with anal penetration or do not wish for such a large dildo. Spur pleases at 4.75 inches long x 1.25 inches thick. The base is compatible with most strapons.

Feels like the real thing
Handmade with a dual layer silicone technology, it enables the softer top layer to feel supple like real flesh, while a stiffer silicone layer below allows it to remain stiff for penetration just like a real penis. Normal silicone dildos feel stiff and unrealistic, while other TPR, ABS and softened plastic materials have questionable ingredients that might be cancer causing or is extremely unhygienic.
Each piece is handmade by Vixen Creations in the USA to enable each piece to be unique and wonderful. Feel free to pop by our showroom to feel the difference between Vixskin silicone dildos and other materials.
Safety comes first
Made from 100% waterproof and safe silicone, Vixskin is not cheap but it will last a lifetime. It will not degrade or spoil over time. It is completely hygienic. Simply wipe it with water or gentle handsoap before using and after using.
Safe to use with water based lubricants. Do not use with silicone based lubricant.

Approximate dimensions:
Length: 12cm (4.75 inches)
Width: 3.1cm (1.25 inches)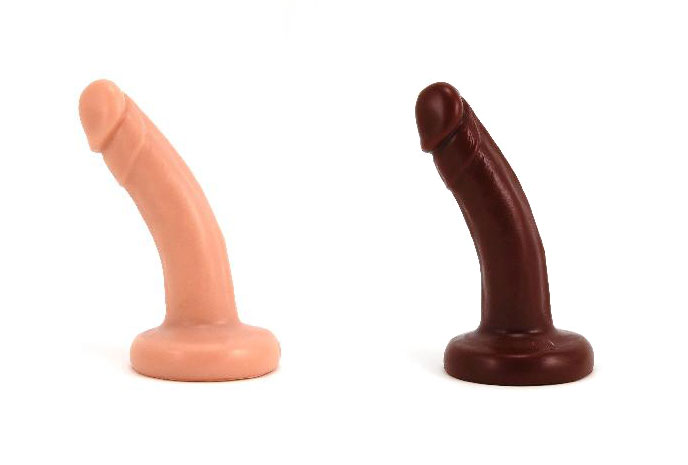 A short word on Vixskin:
Vixen Creations is a proudly Made in USA silicone toy maker since 1998 and handmakes all their products. Their Vixskin line is well known globally for their lifelike feel and safe materials. Vixskin dildos are perhaps the best realistic dildos there is out there.
Reviews
This is a new product! Submit a review by emailing to

[email protected]

.
Additional Info
Additional Info
| | |
| --- | --- |
| Brand | Vixen Creations |
| Material | Silicone |
| Vibration Strength | No |
| Toy Size | Small |
| Warranty | None |
Customers Who Bought This Item Also Bought