The ultimate power couple kit. We-Vibe Sync, the world's best-selling couples vibrator comes together with Tango by We-Vibe, the most powerful mini-vibe to create this exclusive, limited-edition collection.

This special combo kit comes with the We-Vibe Sync and the Tango mini vibrator together.
The remote-controlled We-Vibe Sync is an amazing vibrator designed for couples. It is used while a couple is making love, enhancing sensations for both partners and without getting in the way. It can also be used as a regular remote controlled vibrator. We-Vibe Sync now allows you to control the vibrator using your smartphone via Android or Apple Apps even though your partner might be a hundred miles away. *Smartphone sold seperately.

Control her pleasure from your smartphone.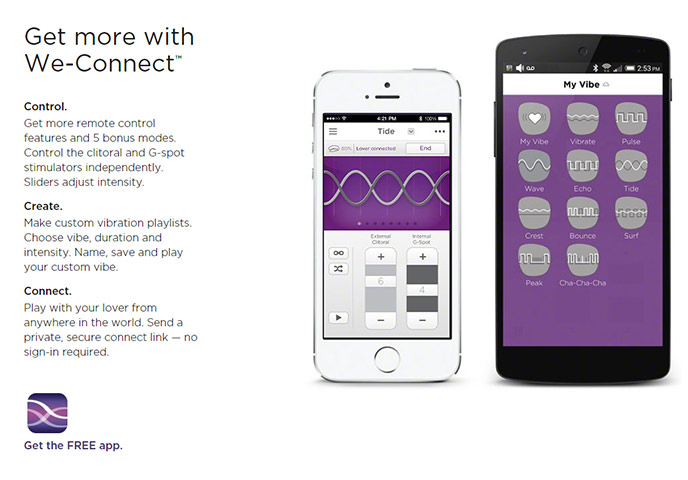 Features:
Control her pleasure remotely by changing modes, speeds, vibrations using your smartphone.
Comes with regular remote-Control too.
Create, save and play with customizable modes.
Improved design to hug the labia and clitoris closely and stimulate the G-spot
Rechargeable dual vibrating motors
Shared pleasure by both partners
Enables "Hands-Free" use
Silky smooth velvet finish made from soft medical-grade silicone


Pleasure your partner
The We-Vibe Sync pleasures both partners at the same time, and is also affectionately known as the "unfair advantage" for guys. Equipped with a We-Vibe Sync, a gentleman can continuously please his lady at her two most sensitive spots (G-spot, and Clitorial area) with strong vibrations - even while making love to her. Obviously the lady will get more pleasure out of this experience and will likely climax first, giving the gentleman an unfair advantage to pleasure her even more. The strong vibrations from the small-sized We-Vibe Sync will also help to stimulate the gentleman, allowing him to provide a stiffer and better performance.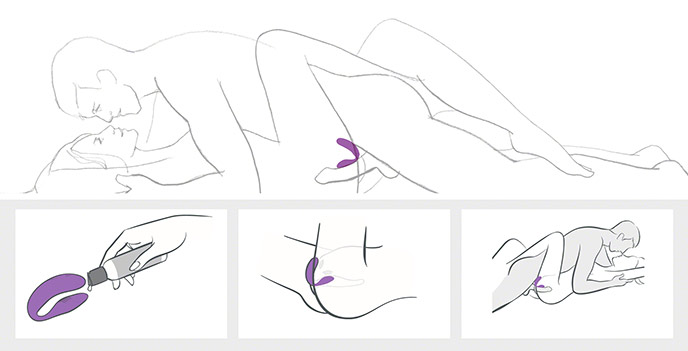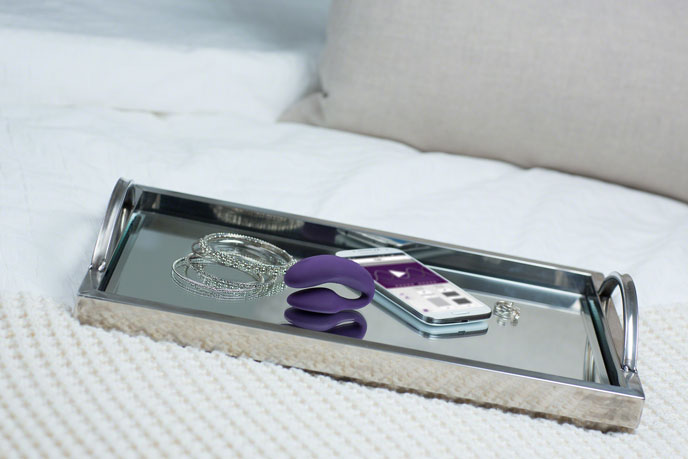 We-Vibe Sync is shaped for even greater pleasure.
Extensive product research and testing with consumers, retailers, sexologists, relationship counsellors, OB/GYNs and sex researchers has led to the most advanced We-Vibe to date. Its new compact form hugs the body to deliver stronger, more intense vibrations. The curved clitoral stimulator follows the curve of her body and gently rests between the labia, while the stiff mid-section ensures a snug fit. The redesigned G-spot stimulator sits in place behind the pelvic bone, increasing stability and comfort for both partners.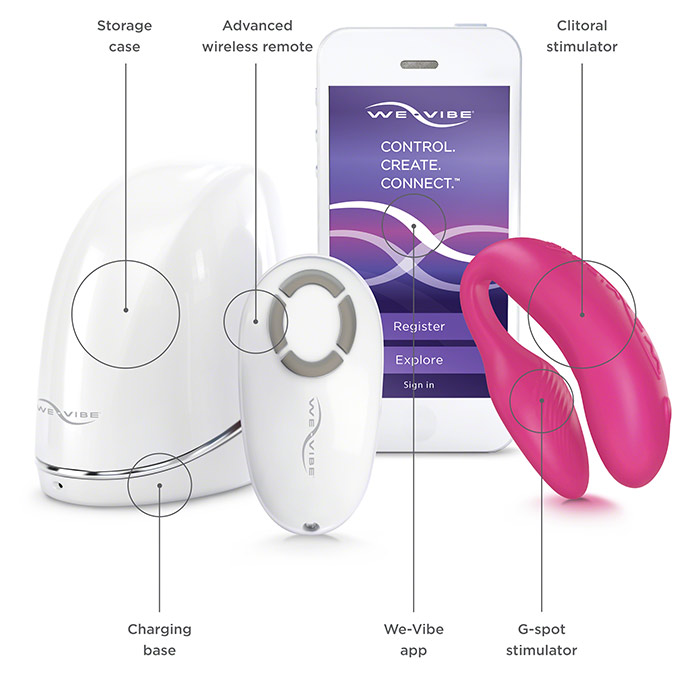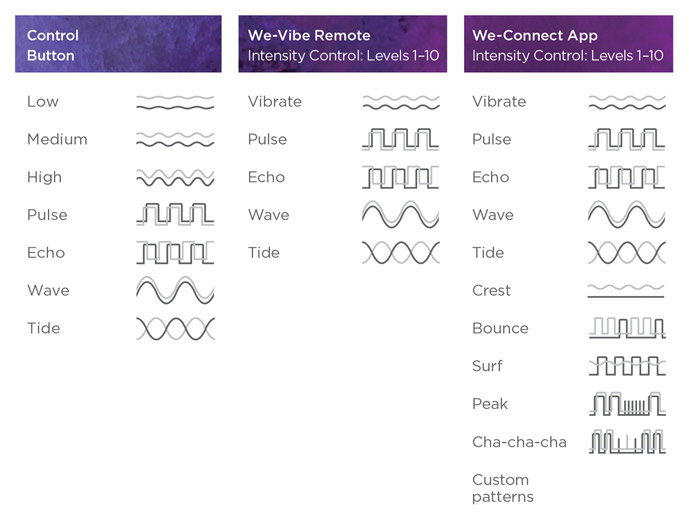 It's one wild vibe.
Made with silky-soft medical- grade silicone, We-Vibe Sync is body-safe and 100% waterproof for fun in the shower and easy cleaning. The simple control button, at the top of the clitoral stimulator, cycles through 10 vibration modes and even allows you to customize modes by the app with limitless options. Or the remote control allows for fine-tuning of the stimulation. Use the up/down buttons to step through 10 levels of intensity or press and hold the up button to soar to max right away. Use the left/right buttons to go backward or forward through the modes — including the new Echo vibe, which alternates between G-spot and clitoral vibration.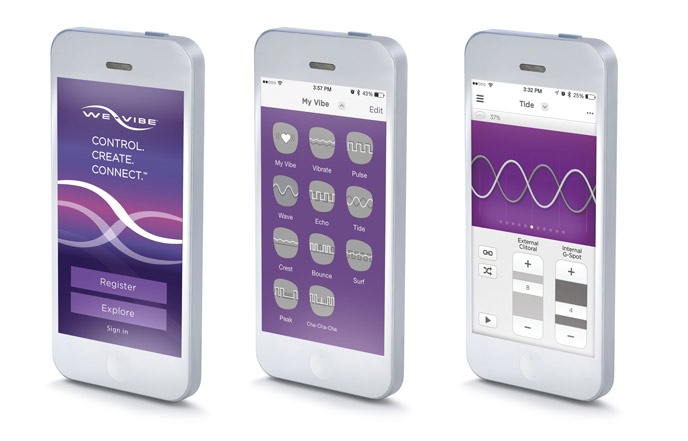 Control her response via the App
Install the Apple Itunes or Android app and a whole new world of options will be opened to you. Individual sliders control each arm of the We-Vibe Sync to pleasure her from a distance. Create and save new modes and pleasure her at the tap of a button.


Internationally Acclaimed


With over one million units sold across the world, the We-Vibe is the world's most popular vibe, achieving multiple international awards and even receiving rave reviews by Women's Health, The New York Times, Glamour, GQ and Cosmopolitan. We-Vibes were even distributed in gift bags at the 2009 and 2010 Oscars for attendees, and received a mention on Oprah.com.



We-Vibe Sync is completely waterproof and submergeable under water.

Vibration Level: Moderate-Strong





Alice Maple honors an original 12-month manufacturer's defect warranty from date of purchase for this product.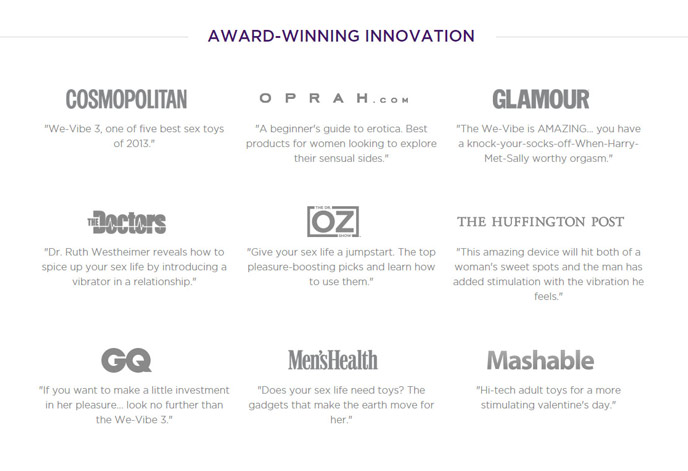 Step 1:
Charge your We-Vibe Sync for four hours before initial use. Simply place it in it's charging dock. Connect the USB charger. A light should appear while charging.Wash We-Vibe with soap and water before and after use. Use only water-based lubes. Respect We-Vibe's natural shape.
Step 2:
To turn on your We-Vibe Sync firmly press the raised push button on the nose of your We-Vibe or use the remote control. To turn off, hold the down button for 2 seconds. To turn on double tap the up button.
Step 3:
Insert the small G-Spot end, placing the larger C-Spot end outside the body.For long battery life, recharge before motors slow noticeably. Leave plugged in and charging if used regularly - unplug for long-term storage.
The We-Vibe Sync is waterproof with a soft pliable silicone surface and flexible conforming core. It is also phthalate free and made from 100% body-safe medical grade silicon.
More Information

| | |
| --- | --- |
| Brand | We-Vibe |
| Material | Silicone |
| Vibration Strength | Strong |
| Toy Size | Small |
| Warranty | 12 Months |
We found other products you might like!

Customer Also Considered