Description
Details
Tristan 2 is a thick handmade silicone anal plug of the highest quality. A small hole at the bottom allows you to insert vibrators or bullets into it to turn it into a vibrating anal plug.

Tristan 2 for vibrating anal play
Designed by the author of The Ultimate Guide to Anal Sex for Women, this stay-put plug features a contoured base that rests more comfortably between butt cheeks. A cavity at the bottom of Tristen allows small vibrators or "tails" to be inserted into Tristan 2 from below. Insert a bullet vibrator into the hollow core to add delightful vibration to your plug. Bullet sold seperately.

Tristan 2 is a larger upgraded version of Tristan.
Media Reviews
"Tristan (named after Tristan Taormino) warms up to your bod's temperature quickly and is super easy to clean. 'Because of it's unique design -- a bulbous head and thick neck, and a uniquely shaped base which is meant to fit comfortably between your ass cheeks -- once it's in, it stays in,' says Tristan 2. Considering that she has tried 'nearly every butt toy out there on the market', we think it's safe to say she has greatly improved on the old boy's butt network." - Hannah Levin, Bust Magazine, Fall 2000
Each piece is handmade by Vixen Creations in the USA to enable each piece to be unique and wonderful. Feel free to pop by our showroom to feel the difference between silicone dildos and other materials.
Safety comes first
Made from 100% waterproof and safe silicone, is not cheap but it will last a lifetime. It will not degrade or spoil over time. It is completely hygienic. Simply wipe it with water or gentle handsoap before using and after using.
Safe to use with water based lubricants. Do not use with silicone based lubricant.

Approximate dimensions:
Length: 9.5cm (3.75 inches)
Width: 5.2cm (2.06 inches)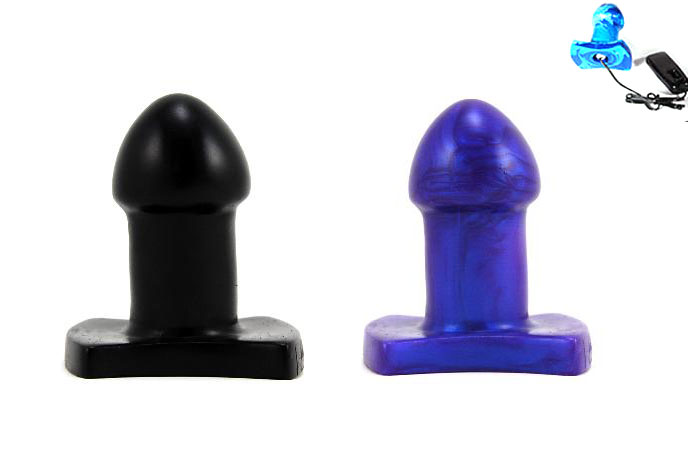 *A cavity at the bottom of Tristen allows small vibrators to be inserted into Tristan 2 as seen above. Bullet sold seperately.

A short word on :
Vixen Creations is a proudly Made in USA silicone toy maker since 1998 and handmakes all their products. Their Vixskin line is well known globally for their lifelike feel and safe materials. Vixen Creation dildos are perhaps the best realistic dildos there is out there.
Reviews
This is a new product! Submit a review by emailing to

[email protected]

.
Additional Info
Additional Info
| | |
| --- | --- |
| Brand | Vixen Creations |
| Material | Silicone |
| Vibration Strength | No |
| Toy Size | Large |
| Warranty | None |
Customers Who Bought This Item Also Bought