Description
Details
Smartball Uno by Fun Factory is 100% medical grade silicon single Kegel Exercise Ball.

Features:
Designed for Pelvic Floor exercise to tighten the vagina
Inner beads roll about to create vibrating sensations as you move about
For advanced users (3.6cm wide)
Fully made from body-safe silicon

The Kegel Ball for Advanced Users
This smart ball makes it possible to train your pelvic floor muscles in a fun way. Everyday activities suffice for the Smartball Uno to teach the inner musculature to detect movement, thereby strengthening the pelvic floor.
Vaginal ball Smartball Uno with one ball is perfect for beginners and for women with a prolapsed or tilted uterus and who want to train their pelvic floor muscles in a fun way. Muscles that are in shape lead to more sensation during sex and climaxes after the training!
The extremely smooth running of the Smartball Uno as well as the steady and fast rotation of the inner ball is made possible by innovative technology. An ergonomically formed finger hollow eases insertion. A woman can go about her everyday activities without any bother and still be training diligently. The Smartball is inserted lengthwise into the vagina with a drop of water-based lubricant, the retrieval band remains outside the body.
Some may think it's too bad that using Smartball Uno doesn't create an orgasm. But sexual experiences after the training are even more sensuous and passionate. A woman feels sensation more intensely during sex. And for the man it's a good feeling to be held more snugly. So best start your training today!
Smartball Uno is the easy-to-use kegel training device for a strengthened pelvic floor that's especially beneficial for beginners, as well as for women with uterine conditions. Inserted like a tampon, the Smartball Uno can hardly be felt when worn. Through the constant yet quiet rotation of the inner balls, with everyday movements, muscle contractions are induced, which strengthen the pelvic floor. Short, regular training sessions lead to the best results and improvements. After successful workouts with the Smartball Uno, we recommend advance training by switching to the Smartball Duo.


Approximate dimensions:
String Length: 7.3cm
Width: 3.6cm
Weight: 36g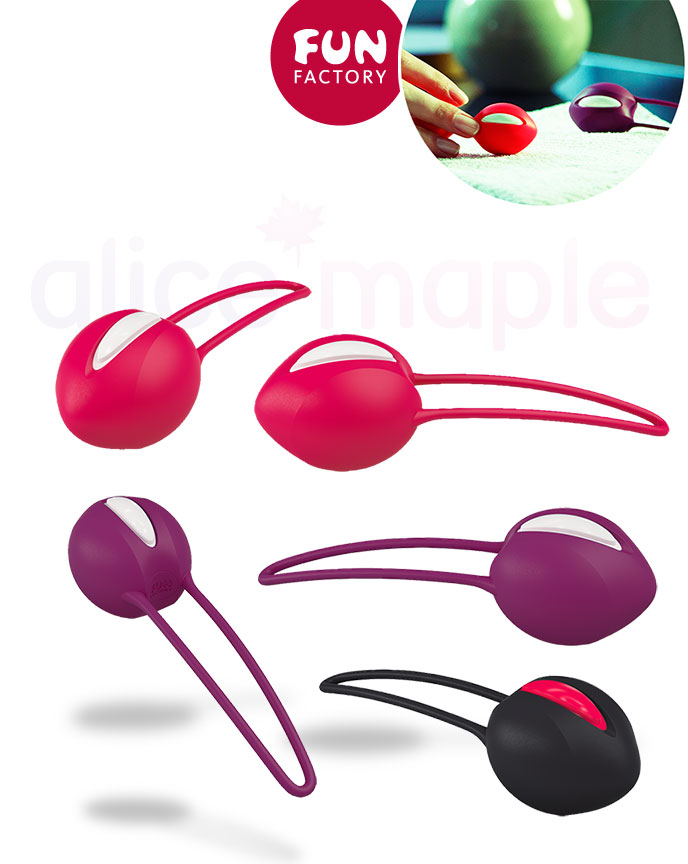 A short word on FunFactory:
FunFactory is Europe's largest producer of silicon toys and produces colourful and cheerful toys that expresses love of life, good fun and confidence. Products are Made in Germany and only uses body friendly silicone and elastomer. All toys are skin-friendly and fare very well in dermatological tests.
Reviews
This is a new product! Submit a review by emailing to

[email protected]

.
Additional Info
Additional Info
| | |
| --- | --- |
| Brand | FunFactory |
| Material | Silicone |
| Vibration Strength | No |
| Toy Size | Medium |
| Warranty | None |